BOSCH - Analog Fire Alarm Systems


The FPA‑1000 Analog Addressable Fire Panels are a scalable solution for fire detection. Protect your small office with a single system or connect multiple panels together as your needs grow. Networking capabilities support the monitoring of up to 2,000 addressable points in one system for campuses or other large commercial environments.






---
Dual Ray Analog Smoke Detectors
Features
Dual Ray Technology provides better particle size differentiation resulting in fewer false alarms
Smoke threshold is adjustable and automatically compensated
Rotary switch addressing
Flexible work modes determined by the control panel
Selectable base locking mechanism prevents malicious removal of the detector
The FAP‑440 Dual Ray Detectors are open-area smoke detectors of which some models are enhanced with heat or heat and CO sensors.

---
Photoelectric Analog Smoke Detector


Features
Addressable analog photoelectric smoke detector head that mounts on D321A or D336A Analog Detector Base
Advanced digital communications protocol
Digital data communications and power provided over two-wire circuit
Easy head removal for cleaning and servicing
Dual Polling Status and Latching Alarm LEDs on head for easy viewing
---
Ionizations Analog Smoke Detector


Features
Advanced digital communications protocol
Digital data communications and power provided over a two‑wire circuit
Mounts on a D321A or a D336A Analog Detector Base
Easy head removal for cleaning and servicing
Dual Polling Status and Latching Alarm LEDs on head for easy viewing
---
Analog Heat Detector


Features
Selectable Fixed Temperature threshold
Rate-of-Rise feature can be switched on or off
Selectable base locking mechanism prevents malicious removal of the detector
---
Analog Detector Base


Features
Modular design
Easy detector removal for cleaning and servicing
Stable mounting of detectors
Terminal screws for remote LED, Data In and Out provided
Some models include isolator circuitry which prevents the entire SLC loop from being disabled when a short circuit occurs
---
D328A Photoelectric Analog Smoke Detector


Features
Addressable analog photoelectric smoke detector head that mounts on D321A or D336A Analog Detector Base
Advanced digital communications protocol
Digital data communications and power provided over two-wire circuit
Easy head removal for cleaning and servicing
Dual Polling Status and Latching Alarm LEDs on head for easy viewing
---
D324A Ionisation Analog Smoke Detector


Features
Advanced digital communications protocol
Digital data communications and power provided over a two‑wire circuit
Mounts on a D321A or a D336A Analog Detector Base
Easy head removal for cleaning and servicing
Dual Polling Status and Latching Alarm LEDs on head for easy viewing
---
D322A Analog Heat Detector


Features
Advanced digital communications protocol
Digital data communications and power provided over a two-wire circuit
Mounts on D321A or D336A Analog Detector Bases
Easy head removal for cleaning and servicing
Dual Polling Status and Alarm Latching LEDs on head for easy viewing
---
Analog Sounder Base


Features
Sound pressure level of 85 dB at 10 ft
Can be alarmed by zone or by host
Base learns the detector address and adds 127 to it (address range from 128‑254)
Digital data communications via the attached detector and powered over a four‑conductor circuit
Compatible with advanced digital communications protocol (DCP)
---
FAA‑325‑B6 6‑inch Analog Sensor Base
Features
Modular design
Robust six‑inch detector base
Easy sensor removal for cleaning and servicing
Stable mounting of sensors
Terminal screws for remote LED, Data In and Out provided
---
FMM‑325A Series Analog Manual Stations


Features
Compatible with advanced digital communication protocol
Digital data communications and power provided over two-wire circuit
EEPROM addressing in module unit
Rugged die‑cast housing and corrosion resistant construction
Single‑gang mounting
---
D327A Analog NAC Module


Features
Compatible with advanced digital communications protocol
Provides digital data communications and power over a two-wire circuit
Provides Class B circuit for notification appliances
Supervised connection point for 24 VDC input
Two-color status LED
---
D328A Analog Relay Module


Features
Advanced digital communications protocol
Digital data communications and power provided over a two-wire circuit
Provides one Form C relay output
Two-color Status LED
EEPROM addressing in module unit
---
D333A Analog Circuit Fault Isolator


Features
Reduces lost devices under fault conditions
Supports Class A, Style 7 wiring and Class B, Style 4 wiring
LED identifies polling circuit faults
Uses up to 127 circuit fault isolators per circuit
---
D326A Analog Point Contact Module


Features
Digital data communications and power provided over a two-wire circuit
Advanced digital communications protocol compatible
Class B circuit for dry contact devices
Two-color status LED: green for normal, red for alarm
EEPROM addressing in module unit
---
D7035 Series Octal Relay Modules


Features
Eight Form C programmable relay outputs
D7035 mounts conveniently inside the FACP enclosure; no separate enclosure needed
D7035B includes mounting skirt and enclosure for mounting outside of the FACP enclosure
Up to two modules are supported by the FACP
---
FLM-325-I4-A Family Contact Monitors


Features
Monitors Normally Open (NO) or Normally Closed (NC) contacts
Monitored Normally Closed (NC) contacts can be configured with or without EOL resistor
Module address programming with the D5070 Analog Device Programmer
Bi‑colored LED provides module status
Digital data communications and power over a two‑wire circuit
---
FLM‑325‑IM Contact Module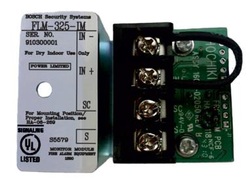 Features
Digital data communications and power provided over a two-wire circuit
Advanced digital communications protocol compatible
Class B circuit for dry contact devices
Module address programming (1-254) with the D5070 Analog Device Programmer
---
FLM‑325‑2I4 Dual Input Monitor


Features
Two independent contact monitoring circuits
Monitors Normally Open (NO) or Normally Closed (NC) contacts
Monitored Normally Open (NO) contacts can be configured with or without EOL resistor
Module address programming with the D5070 Analog Device Programmer between 1‑127
Bicolored LED provides module status
---
FLM‑325‑2R4 Dual Relay Module


Features
Two independently configurable Form C contacts
Contacts are rated 1 A at 30 VDC or 0.5 A at 125 VAC
Module address programming with the D5070 Analog Device Programmer between 1‑127
Bi‑colored LED provides module status
Digital data communications and power over a four‑wire circuit
---
FLM‑325‑CZM4 Conventional Zone Module


Features
Provides a zone of up to 25 conventional smoke detectors (depending on detector type)
Supervises auxiliary power supply for conventional detectors
Compatible with Class B (Style B) or Class A (Style D)
Module address programming with the D5070 Analog Device Programmer between 1 and 127
Bi‑colored LED provides module status
---
FMR‑1000‑RA Remote Annunciator


Features
LED status indicators
80‑character LCD display
Piezo sounder
Navigation buttons
Acknowledge key
---
FMR‑1000‑RCMD Remote Command Center


Features
LED status indicators
80‑character LCD display
Piezo sounder
Navigation buttons
Operations keys for drill, reset, silence, and acknowledge
---